So you've bought yourself a hammock, butwhen it arrives, calamity strikes!  During the ship time, your planned location to hang it up at has unfortunately been demolished by a rogue bulldozer. "Where on earth am I going to hang up this hammock?"  We've got a few options to solve this startling construction catastrophe in the form of portable hammock stands!

Tri Beam Steel Hammock Stand
Our first remedy to our hypothetical disastrous circumstance is this Taupe colored Tri Beam Steel Hammock Stand.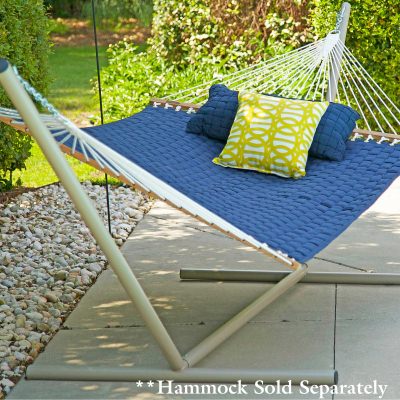 This heavy-duty hammock stand is as tough as they come, with 12 gauge steel poles and welds with the highest stress ratings in the business that provide a weight capacity of 600 lbs.  Even with this incredible strength and durability this hammock stand still has a very simple and intuitive assembly process.  In fact, the most time consuming part of assembly is taking it out of the box!
The Steel-Core spring pins at the ends of the poles make attaching the poles a cinch and since they're Steel-Core and not hollow, they are much stronger and prevent the pins from shearing off with frequent use.  As far as appearance is concerned, there's no reason to worry about rust on the poles because they're coated in Cape Shield Powder Coat to help prevent rust and maintain the look of your stand.
Six Piece Metal Hammock Stand
A sturdy and attractive hammock stand, this Taupe colored Metal Hammock Stand from Essentials by DFO makes a good case to be the solution for your backyard disaster.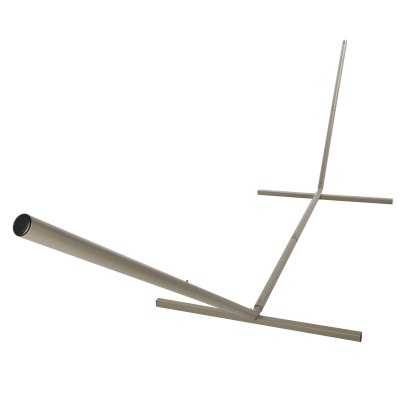 Assembly for this hammock stand is simple, with 8 pole sections all told and Steel-Core spring pins that connect easily.  Those spring pins put other hollow varieties to shame, because when the hollow pins start to shear off and break the Steel-Cores will still keep on going for a while to come.  The poles are made of 13 gauge steel that offer a 450 lb weight capacity for safe and stable support.  Over the long run, the powder coating will help prevent rust and keep your stand looking good.
Here's a look at a side by side comparison of some of the important aspects of these two hammocks
Six Piece Metal Hammock Stand
Tri Beam Steel Hammock Stand
Weight Capacity
450 lbs
600 lbs
Material
13-gauge Steel
Heavy 12-gauge Steel
Portability
Smaller Pole size can ease transport
Lengthier and Heavier Pole size make it a bit less portable, but not by
much
Spring Pins
Steel-core to prevent shearing
Steel-core to prevent shearing
Powder Coated
Electrostatic powder-coating for rust protection and a uniform look and
finished product
Electrostatic powder-coating for rust protection and a uniform look and
finished product