It was all too appropriate, on my first trip to North Carolina's Eno River State Park, to bring along a pair of the eponymous camping hammocks by Eagle's Nest Outfitters (ENO).
The similarity between the names came about accidentally. The Eno river is named for its indigenous inhabitants, a group of Native Americans who fished its waters and flourished on its banks during the 16th and 17th centuries (wikipedia).
The ENO Camping Hammocks are the flagship offering of a privately held company headquartered in Asheville, North Carolina, some 220 miles west of the Eno River State Park. In the case of the hammocks, ENO's an abbreviation, and to my knowledge, there's no particular connection between these hammocks and the Eno River State Park. But those of us who love both ENO's great hammocks and the Eno's unforgettable scenery have forged a connection on our own. As I discovered during my weekend on the Eno, camping hammocks have become a staple of the park, and a highly preferred means of kicking back among campers of every age.
The Eno Park entrance is right along the water, and the ranger station sat across the river directly from our planned campsite. The trouble was the crossing: A scenic suspension bridge was the best way to the Eno's opposite bank, but it crossed the river over a mile south of the campsite. Luckily, the park provides parking for both day and multi-day campers in close proximity to the suspension bridge. But since I was camping with my wife and dog for several days, we brought both camping hammocks and a large tent weighing in excess of 30 pounds. Carrying that along with all our gear to the campsite was certainly the longest mile hiked of the entire trip.
It was made worse knowing that we could have easily gotten away without bringing the hammock at all, since we had rain tarps and bug nets made specifically for our ENO hammocks. These types of complementary accessories represent a rapidly expanding arm of the ENO organizations product development, and one that has no doubt helped them to garner a fan base among the more "hardcore" backpacking elite, not least among them adventure filmmaker JJ Yosh:


Enjoying my Friday Morning on my hammock. Happy Friday Everyone! @DFOHome pic.twitter.com/wYxXgEC1sL

— JJ YOSH • Adventurer (@jjyosh) October 9, 2015

One of their foremost innovations (and one we took advantage of during our trip to the Eno) is also perhaps their simplest: a means of easily hanging a camping hammock between two trees. I'm writing of the ENO Slap Strap, a simple 7 ft. nylon band with one end ending in a small loop opposite a series of larger loops.


With these straps, hanging an ENO hammock is as simple as looping them around a tree at the desired height, and hooking the caribiner clips through one of the several loops stitched into the length of the straps. From there, tension and the trees will do all of the work to keep you suspended comfortably above the forest floor.


Once our camping hammocks were hung, it was obvious we'd be spending most of our time at camp swinging between the trees. Even with a plush sleeping bag and pad between our dear backs and the forest floor, sleeping in the tent could not compare to the ENO experience. The view alone was worth hanging out for. Even better, we weren't as married to one spot in the park with the ENO hammocks, since since our Single Nest models pack down to a 17 oz. pouch about the size of a softball.
Like others we saw during our stay, we could easily relocate our hammocks from the campsite to right alongside the river for the afternoon, allowing us to kick back after having a splash in the water with our canine companion, Ralph.


But we did more than splash around in the Eno's comfortably cool (and suprisingly clear) waters. We explored most the of the park's major trails, including the Holden Mill trail and its hidden treasures. Before I write about that trail and the fun we had exploring it, I first would like to give a shout out to the folks at EnoTrails.com for providing me with some background about the hidden structures off the Holden Mill Trail.


The Holden Mill trail features an out-and-back journey that seemingly dead ends at a small loop near an almost 90 degree elbowed section of the Eno River. There are rocky ruins of a stone structure that you'll see near this dead end, as well as the remains of an old dam.


These rocky remnants were once a bustling grist mill operation during most of the 19th century. Flooding has washed away much of the original structure, but if you poke around that final small loop in the trail, you'll see that a significant amount of the mill foundation and base structure still remain.
This trail had piqued my interest because of its name. I recognized the Holden name because, as a graduate student, I had conducted some research into the origins of North Carolina's best-known Holden: one William Woods Holden. He remains the only governor of our state to ever be impeached. My interest in the man had stemmed from his career as a newspaper editor.
Hoping there might be a connection between that Holden and the trail bearing his name, I began reading about the trail online. I discovered it was named for W.W. Holden's father, Thomas, and the mill he had established at that site. But there's more to Holden Mill than the mill ruins, as I discovered thanks to enotrails.com. Their description of the homestead that exists north of the Holden Mill Trail's terminus inspired me to go bushwhacking to see it for myself. I marked the approximate position of the structures I came across in red on the map above.


Going off-trail always carries with it a bit of additional risk. With my wife and dog along with me, I was more nervous than usual, and resolved to turn back if it began to feel at all like we had lost our bearings and missed the Holden homestead. Fortunately, as I was beginning to consider turning back, we happened upon the tobacco barn above. Moreover, we noticed that the forest floor below our feet was suddenly lush with almost knee-high vegetation that seemed to indicate this was land that had once been cleared and cultivated by humans. We were now within the boundaries of the centuries-old Holden homestead.


The tobacco barn, for all its simplicity, was still a beautiful structure. Given its age (difficult to estimate, but most likely mid-19th century) it was a wonder it still stood at all. I peeked inside briefly, just long enough to see the beams where fresh tobacco leaves were hung and cured many years ago. My dog, Ralph, jumped in without hesitation to sniff about, prompting us to quickly call him back out. Better to enjoy this bit of history safely from afar.
This was even more important when we came across the next structure in the settlement: a remarkable two story log cabin:


It's difficult to make out from the photos I took, but a large tree had fallen on the roof of this structure. On top of that, its foundations (which were little more than carefully-laid piles of rocks) had given way on one side. Because of this, the entire cabin appeared to droop at one end when facing its longer exterior wall.
We were even more reluctant to do much more than peek through the four entryways to this structure. Though obviously, if it's stood for over one hundred years, that says something about the craftsmanship that went into its construction.


With two doorways on both sides of the longer walls, it seems pretty clear that this cabin was built for multiple families. Employees of Thomas Holden and subsequent mill owners may have been allowed to live in close proximity to the mill where they worked. This was not an uncommon arrangement for such operation at the time.
Another fascinating feature of the cabin exterior were the many marks of saw blades along the wooden log walls. It's possible that these marks mean the logs for this building were cut in a saw pit, where freshly cut trees were trimmed into lumber boards with a two-man crosscut saw — Something like this:


The fire place in the cabin seems to confirm that this was a multi-family dwelling, as it had two hearths on opposite sides of a chimney placed square in the middle of the cabin. It's safe to assume that the second floor also features two hearths, though we did not venture upstairs to confirm this ourselves.


There seemed to be very little in the way of personal effects remaining in the cabin's first story. There were a few wooden bed frames alongside rusted mattress springs.


By this point, my phone had died, my wife's phone was getting low, and we had worked up a heck of an appetite. We found our way back by following a creek bed offshoot of the Eno River, which runs parallel to the Holden Mill trail from which we came.


We made it back to the site with daylight to spare, and busted out our Islander Blanket, also from ENO, for a quick and easy picnic at our campsite: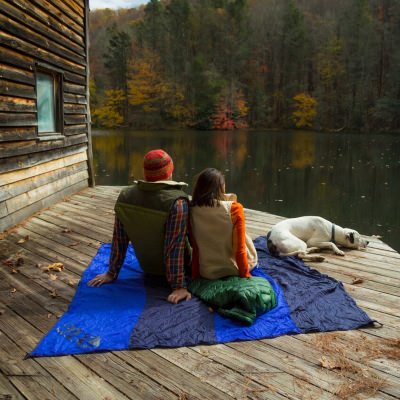 Would we go back? Absolutely. But there's so many great parks in North Carolina, we may take our ENOs to somewhere other than the Eno river the next time we have a chance to get away from it all…